Welcome!
Wisdom International School of Excellence (WISE)
Welcome to Wisdom International School of Excellence - Our school! We are thrilled that you not only recognise the success that your child will experience with us, but by choosing to join us you realise the amazing opportunity that is at our finger tips... to work together and play your part in building a school that reflects the needs of today's young learners, and prepares them for futures we can only imagine. You will be part of history. The decisions we make as we establish our school will not only impact the experiences of our learners today, but they will also continue to affect the lives of many, many children who join us in the coming years and decades. Read More

From the School Manager
Happy International Day of Education from Wisdom International School of Excellence (WISE) Education is a human right, a public good and a public responsibility. Last year December. The United Nations General Assembly proclaimed 24 January as International Day of Education in celebration of the role of education for peace and development. Without inclusive and equitable quality education and lifelong opportunities for all, countries will not succeed in achieving gender equality and breaking the cycle of poverty that is leaving millions of children, youth and adults behind. Read More

Curriculum
Our curriculum is designed to instil learning with a focus on stimulating intellectual curiosity and helping learners to develop a sense of astonishment and admiration through discovery and exploration. We use the National Curriculum requirements for Nigeria as the strong foundation to develop our own skills based curriculum which meets the needs of our pupils. We are continuously searching for ways to enrich and diversify opportunities for learning, and involve parents and carers in contributing to what and how their kids learn in school Read More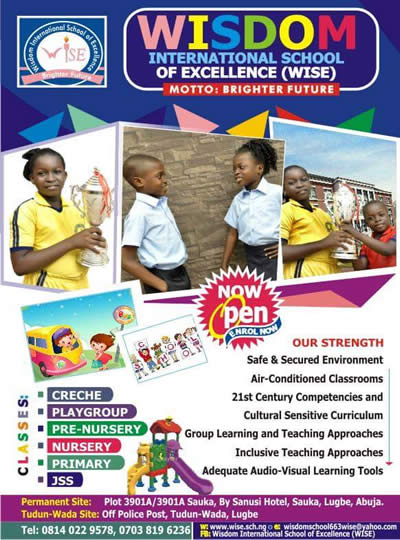 Our Aims
To develop confident, successful and independent children.
To provide a welcoming, supportive and safe environment.
To develop open and genuine engagement with parents.
To promote high academic standards.


To ensure learners become responsible global citizens.
To encourage learners to act responsibly and respectfully to all.
To play an active role within our local community.